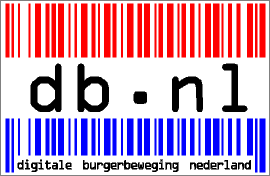 Digital Citizens Foundation Netherlands
http://www.db.nl
Information and communications technology offers opportunities to society. The Digital Citizens Foundation Netherlands wants to grab those opportunities and oppose threats...
Digitale Burgerbeweging NederLand or short DB.NL strives for:
digital democracy (civil liberties such as freedom of expression, protection of privacy, citizen's participation)
publicly useful applications of information and communications technology
an accessible and user-friendly public digital network
---
The aims of DB.NL are described in detail in:
---
DB.NL has a (mostly Dutch) mailing list, to which more than one hundred members have subscribed at this time. How to join the mailing list (in Dutch).
---
Do you have questions or comments for DB.NL? Please feel welcome to contact us:

Stichting Digitale Burgerbeweging Nederland
P.O. Box 11729
1001 GS, Amsterdam
The Netherlands.

E-mail: mailbox@db.nl
Website: http://www.db.nl
Maybe you have comments only on the content of these webpages, please mail them to webmaster@db.nl.

---
You can also support us financially. Voluntary donations can be transferred to:
Giro account: 699 2583, Digitale Burgerbeweging Nederland DB.NL,
Postbank: Girokantoor Amsterdam;
P.O.B 49999, 1009 EZ Amsterdam, The Netherlands.
---
---
NOTE: many original "anchored" (linked) documents are still in the Dutch Language! These are indicated with [NL]. We will attempt to translate as many as reasonably possible in the near future.
Topics
Other subjects
<! -- NOTE: Current digital affairs tijdelijk gelinked naar Nederlandse versie ipv naar Current.html -->
---
Return to the Dutch WWW DB.NL page Terug naar de nederlandse versie.
---
Copyright © 1996 Stichting Digitale Burgerbeweging Nederland. All rights reserved.
Please mail comments, questions or advices for the DB.NL website to webmaster@db.nl